Congratulations to Michael E. Gonzalez from Northeastern State University on receiving the 2021 Student of the year award! Michael is working on B.S. in Cyber/Computer Forensics & Counterterrorism, 2021 – 2023.
Michael took advantage of the Student Association's conference scholarship to go to the 2022 3CS conference from May 23-25th in Dayton, OH, which was hosted at Dayton Convention Center by the National CyberWatch Center. The conference scholarship consisted of a 2-night stay at the Marriott at Dayton University and up to $500 for travel reimbursement. If you interested in learning more about conference scholarships, sign up for email updates with the student association.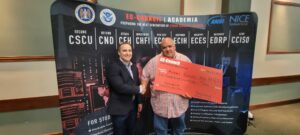 Special thanks to Wesley Alvarez, Director of Academics at EC Council for providing a scholarship for the Student of the Year!
EC-Council's mission is "to validate information security professionals who are equipped with the necessary skills and knowledge required in a specialized information security domain that will help them avert a cyber conflict, should the need ever arise." EC-Council is committed to uphold the highest level of impartiality and objectivity in its practices, decision making, and authority in all matters related to certification.
EC Council's Scholarship Award
Certification: Network Defense Essentials (NDE)
Resources: iLabs, Exam Prep, and Exam Voucher w. Remote Proctor Services
Certification: Ethical Hacking Essentials (EHE)
Resources: iLabs, Exam Prep, and Exam Voucher w. Remote Proctor Services
Certification: Digital Forensics Essentials (DFE)w
Resources: iLabs, Exam Prep, and Exam Voucher w. Remote Proctor Services
Certification: Certified Cybersecurity Technician (CCT)
Resources: eBook, iLabs, and exam voucher w. Remote Proctor Services
Michael's Bio:
Michael Gonzalez was born in Edwards, California and was raised in Corpus Christi, Texas. Michael was raised with the importance of a strong work ethic but as a young adult and never had the opportunity to complete a course of studies from an institute of higher education.
In 2020, Michael broke the mold and as a first-generation college student. He obtained his A.S. Degree in Enterprise Development from Tulsa Community College. I continued his studies at Northeastern State University (NSU) where he is pursuing a degree in Cyber Security (B.S.) with a minor in Spanish. He also serves as the President for the NSU Chapter of The National Society of Leadership and Success (NSLS), an organization that helps students to achieve personal growth, career success and empowers them to have a positive impact in their community.
Upon the completion Michael's degree at NSU, his desire is to turn his passion into a business. Places like Peru in South America are not on par with opportunities for Cyber Security/IT goods. They are currently in 4th place in cyber-attacks in all of Latin America. Michael's desire is to not only educate but assist Latinos in the importance of Cyber Security and IT. In his free time he enjoy travelling with his wife (who is from Peru) and experiencing the rich life this world has to share.